"Everything Is Broken" is the first season finale of Defiance and the twelfth episode overall. It is scheduled to air on July 8, 2013 on Syfy.
Synopsis
Overview (No Spoilers)
As the votes for Mayor are cast, Amanda and Datak are locked in a bitter struggle. Nolan is violently confronted with his past, while Irisa must decide whether to embrace her destiny.
Brief Summary (Minor Spoilers)
Detailed Description (Major Spoilers)
Production Notes
Continuity
This is the first time that Nolan's first name (Joshua) is used!
Trivia
Free Clips, Previews, etc.
Trailer
First 4min.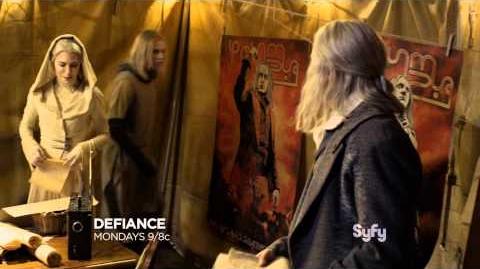 Full Episode
Free Host
Also, available at Syfy.
Paid Host
Community content is available under
CC-BY-SA
unless otherwise noted.