"The Bride Wore Black" is the tenth episode of Season One of Defiance and the tenth episode overall. It is scheduled to air on June 24th, 2013 on Syfy.
Synopsis
Overview (No Spoilers)
The body of a prominent businessman, six years cold, is discovered and everyone's a suspect. It's Christie and Alak's wedding – but will the event go off without a hitch?
Short Summary (Minor Spoilers)
Detailed Description (Major Spoilers)
Production Notes
Continuity
More of Doc Yewll's past is revealed.
The concept of Indogenes being altered to appear human was introduced in I Just Wasn't Made for These Times. However, Nicolette appeared to be much more than an assassin, and more importantly, was fully aware of her Indogene nature.
Amanda's assistant in this episode is a female human, but for the past several episodes has been a female Castithan. The Castithan may have left the job to support Datak's mayoral run, although it's possible it was just her day off.
Despite it being his sister's "big day," Quentin McCawley didn't come back to town to attend her wedding.
Trivia
In spite of the name, the bride didn't actually wear black. The name seems to be taken from the 1968 French film of the same name (Fr:La Mariée était en noir).
Free Clips, Previews, etc.
Trailer
First 4min.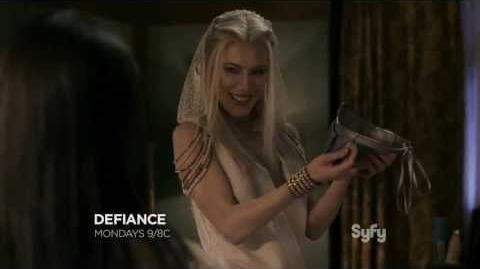 Full Episode
Free Host
Also, available at Syfy.
Paid Host
Community content is available under
CC-BY-SA
unless otherwise noted.