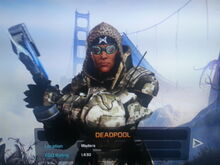 Well first of, I love Deadpool. My Real AKA is Noel P. I have a huge collection of DeadPool Memoriabilia and it's still growing to this day. I love writing down my ideas and compiling lists for game like Defiance. i usually piss of my wife playing and using the game at same time, but hey i love doing stuff like this and writing stuff down so why not start helping with wikis. I have 1 Character at the moment in Defiance. Name: DEADPOOL (Add me if you wanna play; NA) His EGO Rating: 1,430. I play the game alot, usually from 5pm PT - 9pm PT on weekdays, 1pm PT - 1am PT on weekends (Depending). Every Monday I watch Defiance on SyFy, Religiously. I Work in the Marine Corps ATM, looking to getting out in Sept. Going to College to study Computer Sciences with emphasis in gaming. i play most of my games on PS3, but i do own an xbox I usually only play Skyrim or GTA IV on there nowadays. Games i am into ATM are Defiance, Injustice: Gods Among Us, & Call of Duty Black Ops II.
  Alil more about myself is I have Two Awesome great kids who love to play and be full of life. I also have a Beautiful Wife who is the most Incredible woman in the world to me, and is the best Homemaker in the world :), Other than that i love Defiance and games like it so if you every see me on just send me a message or an invite & I'll be sure to join you.
 I have been playing Video Games since I was about 4. when one of my Slightly richer cousins got a SNES. I started with Mario and then later on in '96 my mom had bought me my first Gameboy Color with Pokemon Red for Christmas. I went from there onto N64 where i started to play games like Mario 64 and Perfect Dark. I feel as though I can call myself a Video Game Enthusist. As of right now I have nothing else to offer but if i think of anything else, I'll be sure to post it up for all you other Defi Fans like myself.
My favorite pages
[
]